Harness The Power Of Social Media Marketing


Southern WebWorks creates powerful Social Media Marketing Campaigns for companies looking to create a successful presence on sites like Facebook, Twitter, LinkedIn, and more. Our team of experts and proven methods consistently drive targeted traffic and greater levels of leads and sales.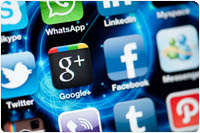 The true power of social media comes from the ability to create a community around your company and to engage in conversations with your customers and clients. Whether it's using a blog to showcase your company culture, or using Twitter for fast, personal customer service, Southern WebWorks has the expertise and proven track record to harness the power of Social Media for your company.



Please contact us today to see how harnessing the power of Social Media Marketing Services can help propel your business to the next level.