TESTIMONIALS
Southern WebWorks is an expert SEO firm, consistently garnering top positions in competitive markets. Real self-starters who find solutions to client needs.
Kelly Ruby,
Liquid IQ, Inc.
social
media
marketing

Harness The Power Of Social Media Marketing
Southern WebWorks creates powerful Social Media Marketing Campaigns for companies looking to create a successful presence on sites like Facebook, Twitter, LinkedIn, and more. Our team of experts and proven methods consistently drive targeted traffic and greater levels of leads and sales.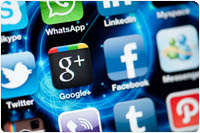 The true power of social media comes from the ability to create a community around your company and to engage in conversations with your customers and clients. Whether it's using a blog to showcase your company culture, or using Twitter for fast, personal customer service, Southern WebWorks has the expertise and proven track record to harness the power of Social Media for your company.
Recent Social Media Marketing Statistics:
53% of Twitter users recommend companies and products in their tweets
74% of B2B companies aggressively using Facebook in social media marketing
57% of companies have acquired customers through LinkedIn
75% of small businesses in the U.S. engage in social media marketing
$3.1 billion will be spent on social media marketing in 2014
B2B spending on social media marketing will rise 67% over the next 3 years
20% of all website visitors to company sites come from social media
2 out 3 people that follow a brand on Twitter will purchase from that brand
66% of marketers saw a rise in search engine rankings due to social media marketing


Please contact us today to see how harnessing the power of Social Media Marketing Services can help propel your business to the next level.